Ubuntu's default font selection isn't bad by any means, but with the selection of free fonts available these days, it'd be a waste to not try out some custom ones.
If you've already decided on which font to install, you're already halfway there. You can use Font Manager apps or manually add the fonts to complete the rest of the process.
Install Fonts with Font Viewer
The built-in Font Viewer lets you install new fonts at the click of a button. If you don't already have any fonts to install, download some fonts you like from Google Fonts and follow the steps listed below.
Right-click the downloaded font file and select Extract here.

Double-click the TTF or OTF file and click on Install.

The Font Viewer should show that the font is installed now. You can also verify it from a program like LibreOffice Writer.

Install Fonts for All Users
The Font Viewer installs fonts for the current user only in the ~/.local/share/fonts/ directory.
If you can want to make the fonts available for all users, you can manually move the TTF/OTF files to the /usr/local/share/fonts/ directory.
As an example, we'll copy the Montserrat TTF from our downloads folder to the system-wide fonts directory.
sudo cp ~/Downloads/Montserrat-VariableFont_wght.ttf /usr/local/share/fonts/    
The system searches this directory recursively for font files. So, for any font connoisseurs out there, feel free to create subdirectories to better manage your collection.
Use Font Manager
Speaking of managing fonts, the GUI-based Font Manager app is also a great option. It lets you install locally available font files, as well as download them directly from Google Fonts.
Install and launch Font Manager with
sudo apt install -y font-manager
font-manager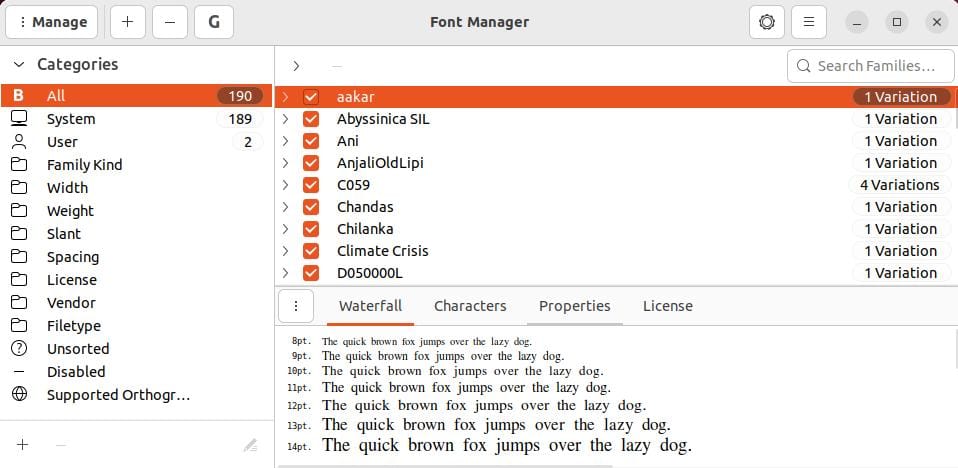 Check the System, User, or All tabs to view the installed fonts. The Add Fonts (+) button lets you open and install local font files.
The Google Fonts (G) tab lets you browse Google's catalog and download fonts directly from the app.
How to Uninstall Fonts on Ubuntu
If you're using the Font Manager app, you can press the Remove Fonts (-) button and select the fonts to delete from there.
Alternatively, you can also delete the font files directly from their installed directories.
For system-installed fonts, check /usr/share/fonts/.
For user-installed fonts, check ~/.fonts, ~/.local/share/fonts/, or /usr/local/share/fonts/ depending on where you installed the fonts.