Linux Mint is one of the best distro for those who are new to Linux . You'll feel right at home with its user-friendly window-like layout in no time. If you're considering Linux Mint as your daily driver, you've definitely made a wise choice.
Various Ways To Install Linux Mint
Linux Mint can be installed through the following ways which are:
Direct installation on hard drive, in which you can install Operating System directly to your harddrive by erasing the previous Operating System.
Installation on Virtual Machine, in which you need to have a virtualization software such as Virtualbox or VMware for installing Linux Mint. Using this method, you can use Linux Mint on the top of your existing Operating System.
Multi Boot Installation, in which you already have Windows or Linux OS on your machine and want to install Linux Mint alongside that Operating system. In this type of installation, you need an empty partition (ext4 formatted) in which Linux Mint will be installed. You can choose the OS of your choice at the boot time after installation.
In this article, I am going to cover the first method through which we can directly install Linux Mint.
Let's get started.
Before You Begin
The first step is to check whether your computer meets the minimum requirements for running Linux Mint.
According to Linux Mint FAQs, you need a computer or laptop with:
2GB RAM (4GB recommended).
20GB of disk space (100GB recommended).
1024×768 resolution .
If you're confident that your machine can handle Linux Mint, it's time to prepare the necessary tools.
USB stick of at least 4 GB of storage capacity or a DVD.
An internet connection to download the Linux Mint ISO file.
Choosing a Linux Mint Desktop Environment
Linux Mint offers three desktop environments which are; Cinnamon, MATE, and XFCE.
Based on your system requirements and personal preferences, you can choose one of these desktop environments. To make a more informed choice, take some of the following factors into account:
Specifications: The XFCE version, which is lightweight and uses less system resources, should be used if you have a low-spec machine with very little resources, such as RAM, CPU, or storage.
On the other side, you can utilize either the Mate or Cinnamon versions if your machine is powerful enough and has enough resources.
Preference: The decision between the Mate, Cinnamon, and XFCE versions can also be influenced by your personal preferences.
If you prefer a traditional desktop layout with menus and panels then you should go for the MATE version.
The Cinnamon edition is the one to choose if you want a contemporary, slick desktop environment with additional functionality and customization choices.
The XFCE version is an option if you seek a portable and simple desktop environment with minimal features.
Download the Linux Mint ISO File
We'll install the latest Linux Mint version, 21.1 "Vera," an LTS version with support until 2027.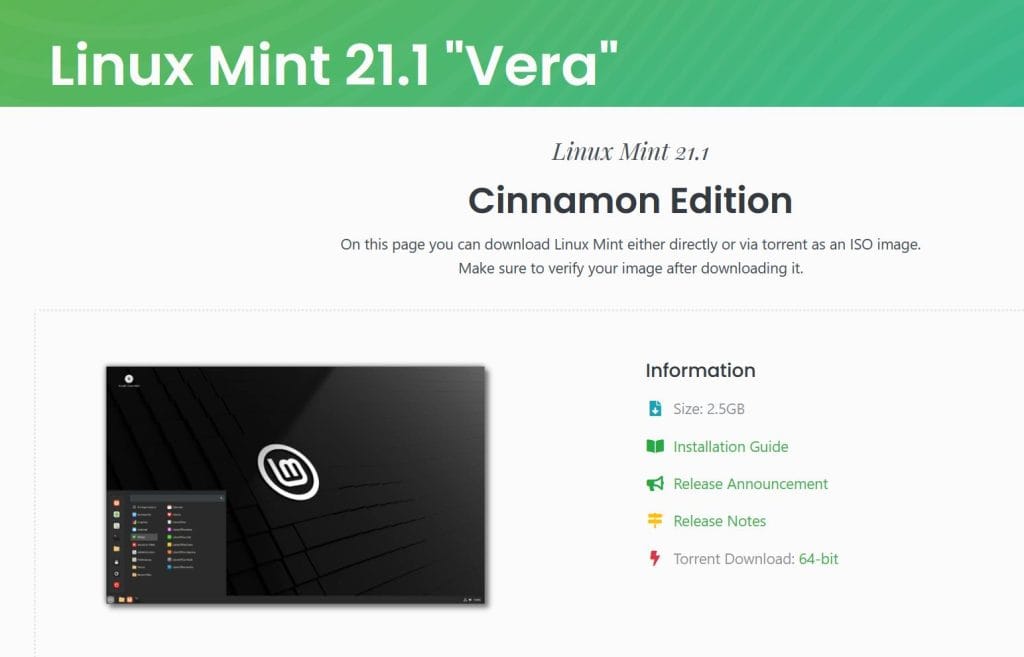 Go to the official Linux Mint site to download the latest Linux Mint ISO file.
In this guide, I'll be installing the Cinnamon variant. However, any other edition can be installed using the same methodology that we will be discussing here.
Once you click download, it'll redirect to the specific variant webpage.
If you scroll down, you'll find the download mirrors. Choose the server closest to your location, and the download will start automatically.
Create a Bootable USB Drive
To create a bootable USB stick, you need Rufus.
After launching Rufus, you'll see an interface that looks like this: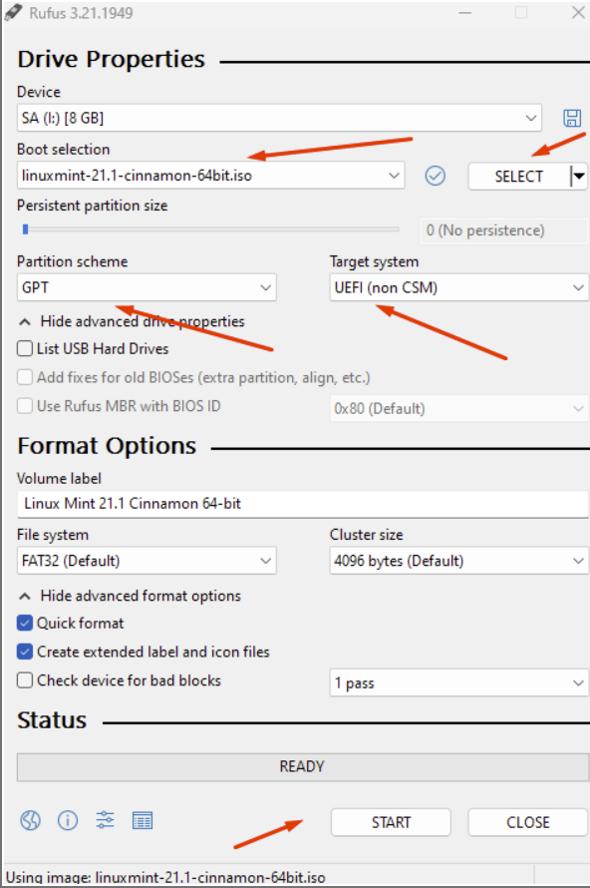 Before making any changes to the Rufus, ensure the USB drive is plugged in. If it is, you'll see the USB stick name under "Device."
Next, navigate to the "Boot selection" and choose "Disk or ISO image."
Then, go to the " SELECT " option and choose the Linux Mint ISO file you downloaded.
In addition, change Partition Scheme to GPT. In the Target system, ensure it is set to "UEFI(non-CSM)."
Finally, click the "Start" button to start the live Linux Mint USB creation process. This process should take a few minutes; once done, your USB drive will be ready.
Boot From the Live USB
Press Esc, F2, F10, or F12 to access your computer's boot menu to boot from the live USB. If you aren't able to access the boot menu change the computer's BIOS settings to boot from the Live USB stick.
Press F2, F10, F12, or delete keys to access BIOS settings, depending on your computer model. For example, you can access the BIOS on an HP laptop by pressing F10. If unsure, check the manufacturer's official documentation to know the key to get into the BIOS.
Once you're in the BIOS, navigate to "Boot Options." Here, change the boot priority to a USB Flash drive. This'll allow the computer to boot from the Linux Mint USB drive.
Finally, save the settings and restart your machine for the changes to take effect.
Begin Installation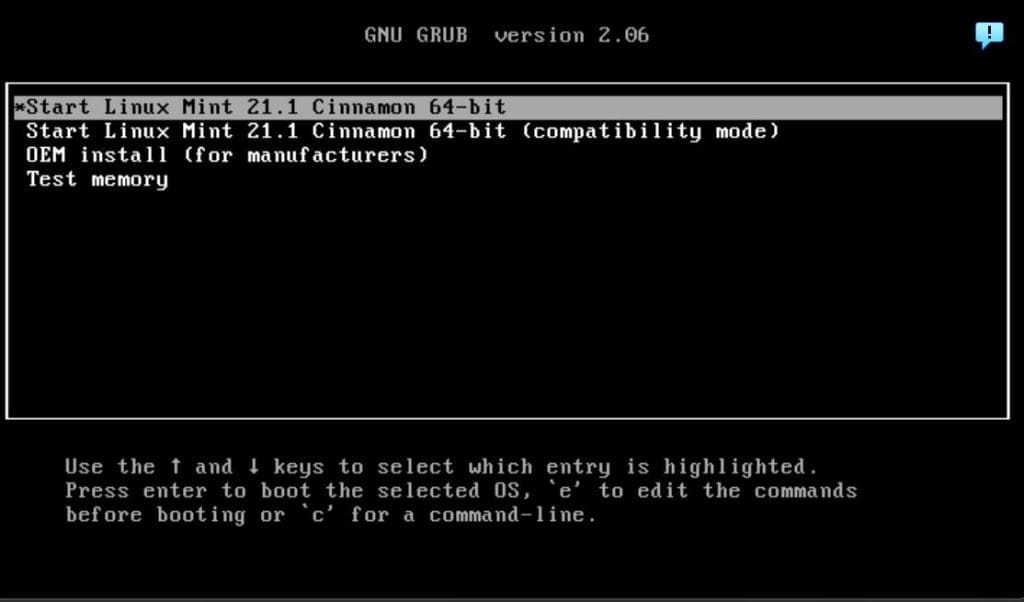 When your machine restarts, you'll see the GNU GRUB manager. You must choose "Start Linux Mint 21.1 Cinnamon 64-bit." Once selected, press Enter to continue.
Note: You'll see a different version name if you install another Linux Mint variant.
It'll then boot up the Linux Mint Live Cinnamon desktop environment. Play around with the live environment. It lets you run the terminal and test out apps. You can even install software.
To start the installation process, click "Install Linux Mint."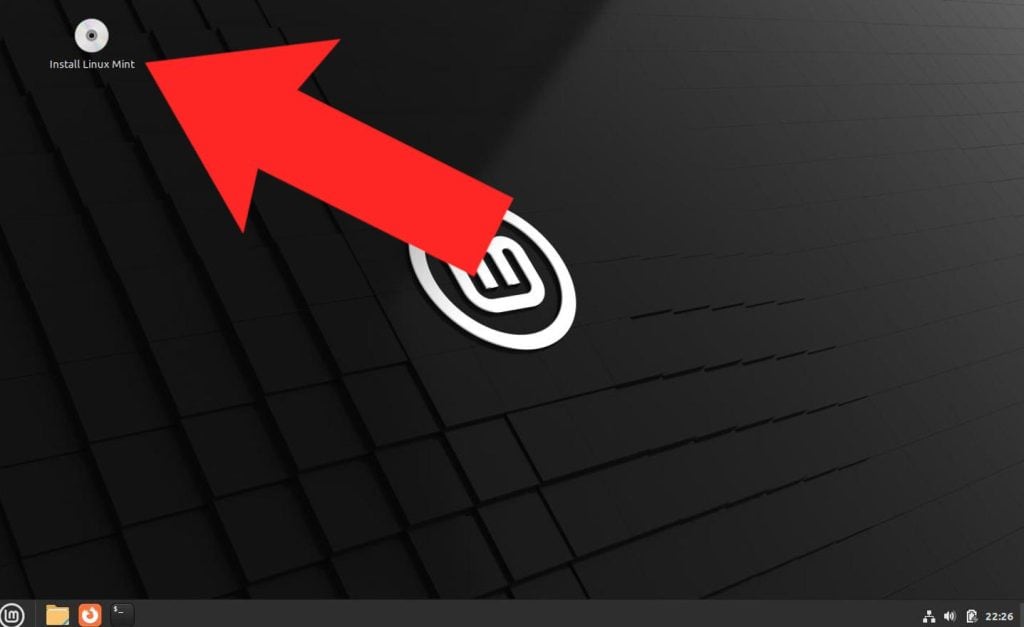 Choose Your Keyboard Layout
When you click "Install Linux Mint," a wizard will open. It'll guide you through the installation process.
First, it'll ask you to select the language and keyboard layout. You're free to choose them as per your liking.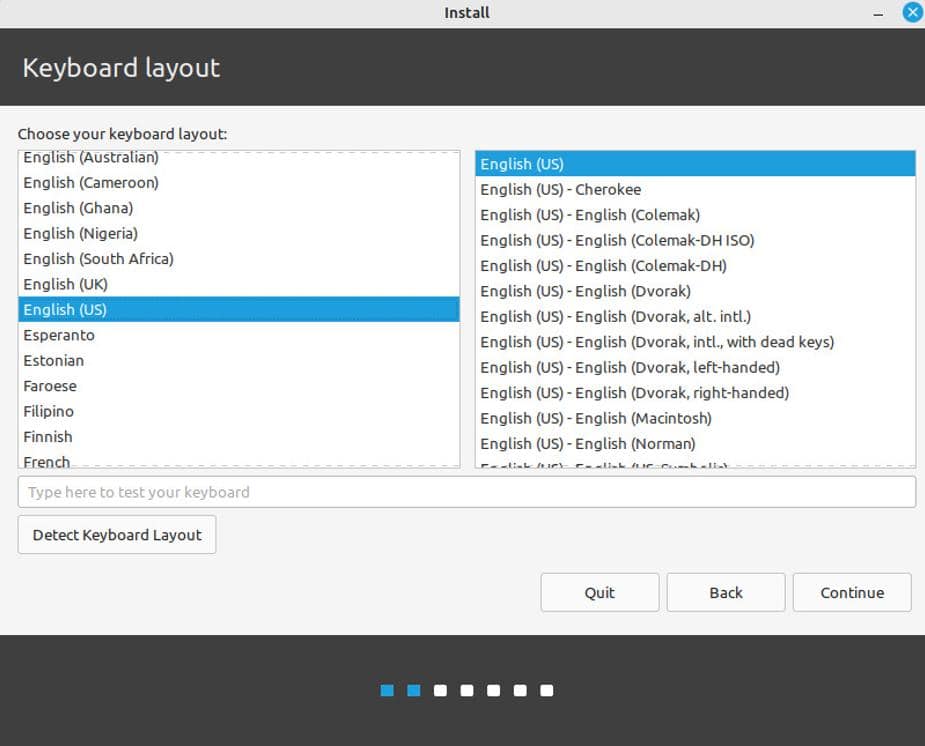 For this tutorial, I'll select the "English" language. As for the keyboard language choose English(US).
Install Multimedia Codecs
The next step will ask you to install multimedia codecs. You probably want to install it.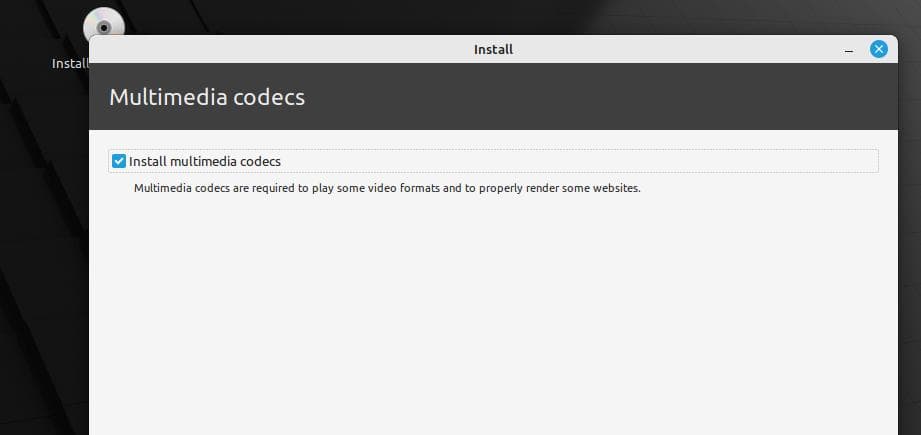 However, if you install it, you will require an active internet connection. The Linux Mint installer will then look start looking for updates, which might increase the installation time significantly
Choose Your Installation Method
In this step, we'll set up the installation type. It is a crucial step; you should read it carefully before proceeding.
Here, you get four options:
Erase the old Linux Mint version and reinstall
Install alongside your current OS
Erase the disk and install Linux Mint
Resize partitions or choose multiple partitions manually
I'll choose the third option as we're doing a fresh install and replacing our old OS.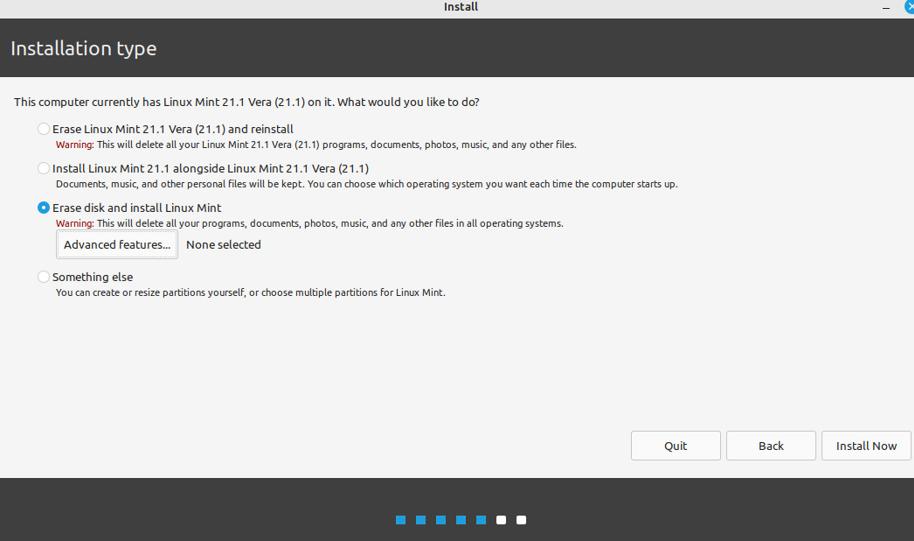 Warning: Once you select the "Erase disk and install Linux Mint" and click on "Install Now," there is no coming back. The wizard will erase the disk, and essentially wipe your system. Therefore, it's essential to back up your data beforehand.
Technically, Linux Mint handles partitioning for you. First, it creates two partitions, one for the EFI boot manager and the rest for the root partition. Then, inside the root partition, it creates a swap file and home directory.
Choose Your Location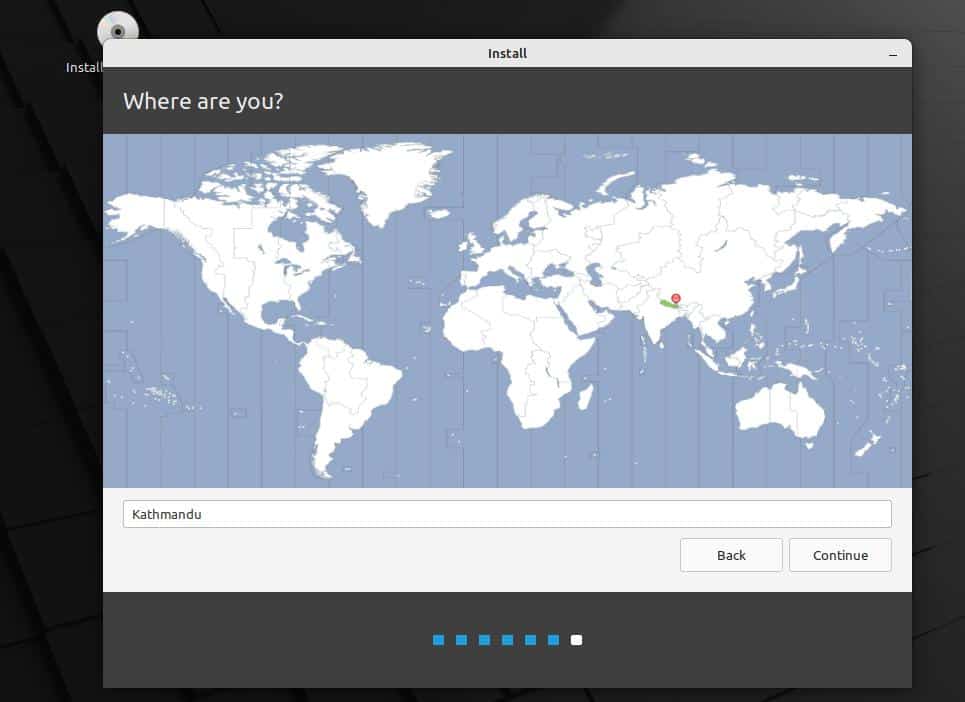 Pinpoint your location on the map. It is important since it helps the operating system in determining the time zone and other regional settings.
User Information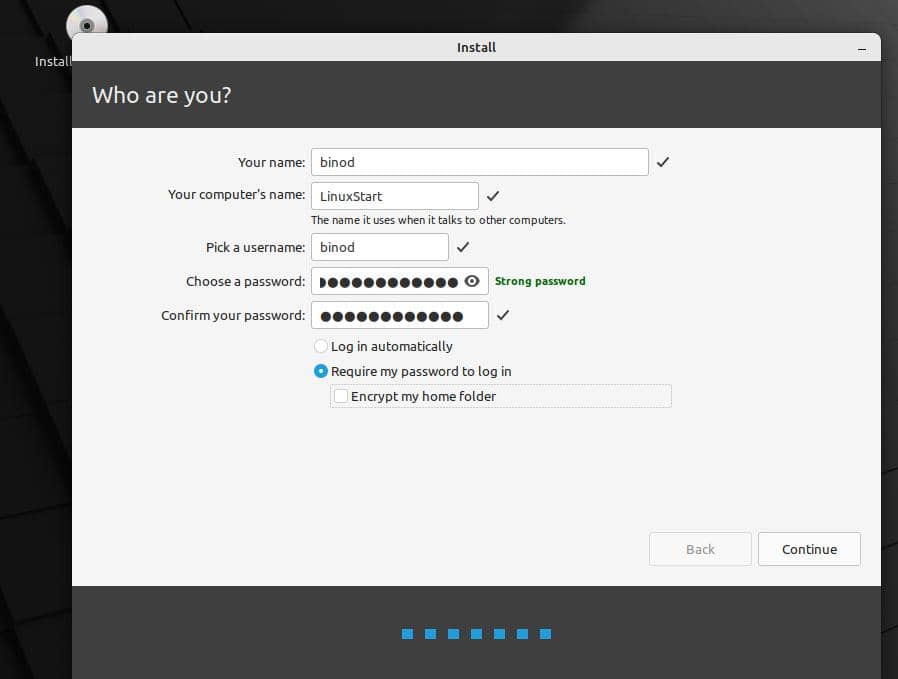 Choose a suitable username, and a strong, easy to remember password. Set your computer's name and if you want to encrypt your home folder check Encrypt my home folder.
Restart Your Computer
That's it. You now need to wait for the installation to complete. Depending on your machine's specs, it can take 10 to 15 minutes.
Once the installation is done, restart your machine. It'll also ask you to remove the live USB.
Enjoy Linux Mint
You'll now boot into your fresh Linux Mint. Use your login credentials, and you'll see a Welcome Window.
I hope you found the installation guide easy to follow. If you got stuck or need more help, comment below and let us know.