Most distros are similarly capable of running games and you usually won't find significant performance differences between them. If performance is your priority, you can just go with whatever distribution you prefer at the moment.
However, performance isn't all there is to gaming, especially on Linux. Setting up Linux and optimizing it for gaming can be very easy or very difficult depending on which distro you go for.
Aside from ease of setup, other factors can be important in certain scenarios (e.g., community support for beginners or resource usage on low-end systems). We'll recommend the best Linux distros for gaming based on such factors.
Nobara – Best Overall Gaming Distro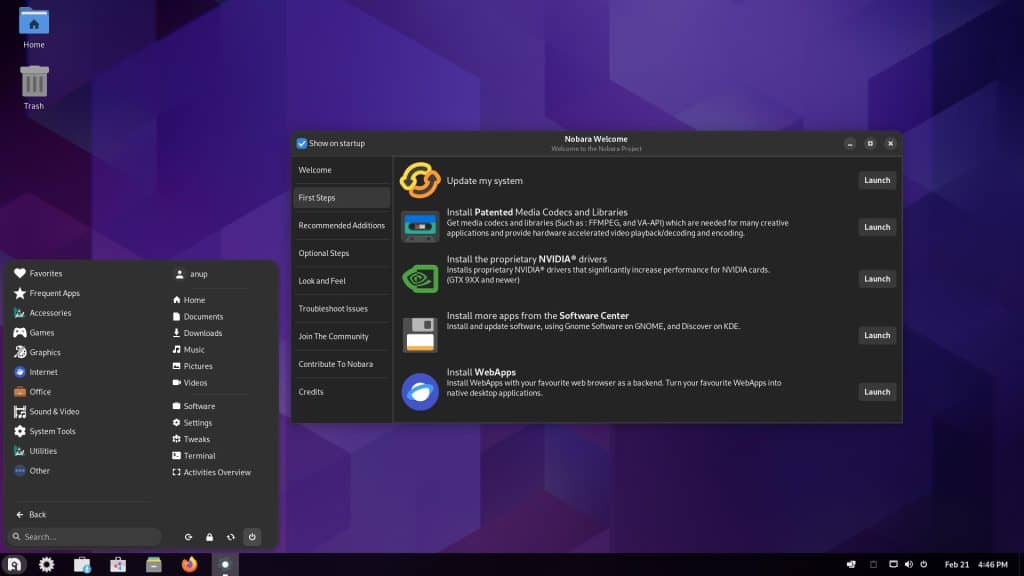 If you've gamed on Linux before, you might've heard of Glorious Eggroll (GE). He's a RedHat engineer, the developer of Proton GE, and a Lutris maintainer among other things. The Nobara Project is GE's own distro based on Fedora.
To put it simply, Nobara is Fedora with a bunch of gaming-focused tweaks. But that statement doesn't do it justice. The changes are extensive, covering everything from performance and bug fixes to improved compatibility and software preinstallation.
If we had to talk specifics, Nobara has improved support for a range of hardware and software (Steam Deck, Microsoft Surface, OpenRGB, Waydroid, etc.). It's patched various bugs (KDE Wayland freezes, GNOME timeouts, etc.).
In terms of general improvements, Nobara includes NVIDIA drivers, various codecs, Proton, OBS Studio, WINE, Steam, Lutris, MangoHud, and various other packages. RPMFusion is also enabled by default which allows access to third-party packages right from the get-go.
Fedora is known to be a middle-road sort of distro, offering frequent but stable updates. Nobara follows the same model, receiving version updates roughly a month after Fedora. This gives enough time to iron out any bugs without letting the current version feel stale. Essentially, it's reliable for long-term usage too.
If you decide to go with Nobara, you'll have three ISOs to choose from. The GNOME and KDE editions are self-explanatory, whereas the 'Official' version uses a modified version of the GNOME desktop personalized to GE's liking.
Nobara is certainly a young distro though. Its userbase is still small and it has minimal documentation which isn't ideal. But I highly recommend Nobara despite this. As it's based on Fedora, Fedora's documentation is generally useful.
Nobara is one of the favorites in Linux-gaming communities, so you can also count on them for community support. Overall, if you want the distro with the best out-of-the-box gaming experience, definitely give Nobara a try.
Garuda – Arch-based Gaming Distro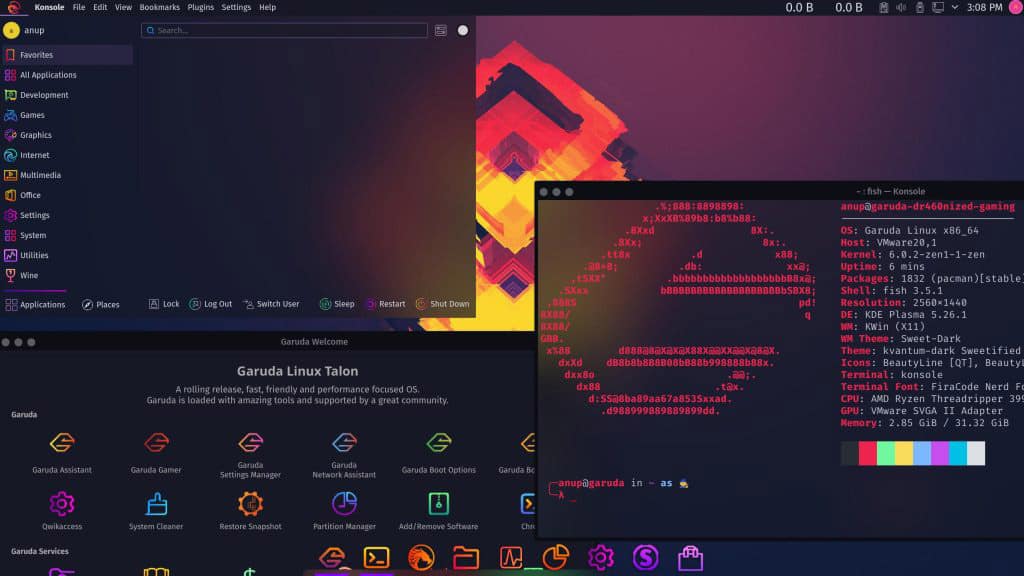 Arch is minimalistic and lets the user configure the installation from the start. This means you can build it according to your needs with minimal bloat. Thanks to this, Arch's performance is top-tier and it's one of the best distros for gaming. But Arch's DIY nature also makes it inaccessible to a lot of users, particularly newer Linux users.
This is where Garuda Linux comes in. Garuda is a relatively new performance-focused distro based on Arch. It's stable by default, but you can also configure it to be bleeding-edge like Arch. There are numerous releases of Garuda, but we'll mostly focus on the Garuda KDE Dragonized Gaming edition here.
The gaming version ships with a customized KDE Plasma desktop that has a pretty unique feel. Various gaming-related packages like Steam, Lutris, Wine, ProtonGE, etc are preinstalled. NVIDIA drivers are also auto-installed.
For ease of management, Garuda has a GUI program called Garuda Gamer that lets you install and manage your games and related utilities from one place. It also has a settings manager for easily managing drivers and kernels.
ZRAM is enabled by default. It can be used to store /tmp files or as a swap device which allows Garuda to use the RAM more efficiently. Garuda also has other performance-focused tweaks related to CPU scheduling and NICE levels.
The gaming release ships with a ton of preinstalled software which is helpful for beginners. But for a performance-focused distro, it can certainly feel overly bloated. If you feel the same, you can go for minimal/lightweight builds like Garuda KDE Lite, Garuda Xfce, etc.
Pre-installed gaming packages, performance tweaks, up-to-date software, all of these might seem similar to Nobara or any other 'gaming' distro. It's true that a lot of these distros are similar, but the thing is, alternatives are important. 
I've found that gaming on Linux can be a very variable experience. Your mileage will vary depending on multiple factors like the hardware, the exact game, the kernel tweaks, your installation, etc.
Sometimes, one distro works great for a lot of people, while the same distro is an error-plagued mess for other uses. Nobara is generally the preferred distro, but if Nobara doesn't click for you and you want an Arch-based gaming alternative, Garuda can be a good option.
Pop!_OS – Gaming Distro for Beginners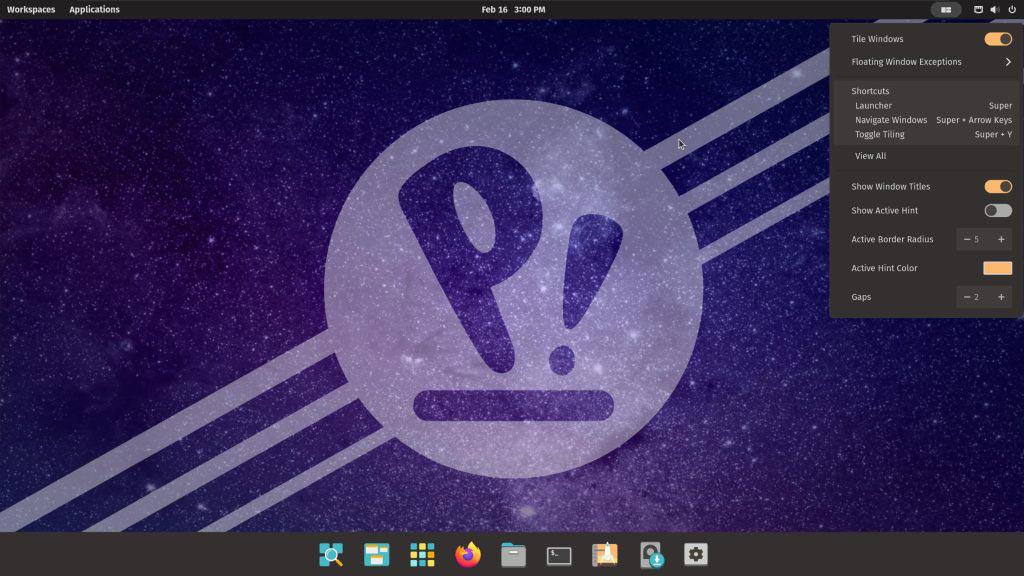 Nobara and Garuda are both great for gaming, and they're fairly easy to use too as the default installations cover most of the necessary setup. However, just ease of setup isn't enough to make them ideal for beginners. If you're a new Linux user, you should also prioritize things like compatibility, stability, documentation, and community support. Ubuntu scores pretty well in all such criteria.
For starters, most developers test their games on Ubuntu before releasing the Linux builds. Ubuntu also has excellent hardware and software support in general. All of this is great for compatibility and stability. Ubuntu is also one of the best distros in terms of documentation and community support.
Ultimately, Ubuntu is a general-purpose distro though. You can definitely set it up for gaming, as so many people have. But beginners often have trouble with certain setup portions (e.g., installing NVIDIA drivers). If you'd rather just have a preconfigured gaming version of Ubuntu, Pop!_OS might be a good fit.
Pop!_OS is a Ubuntu-based distro that comes in two versions; one that has built-in GPU support for NVIDIA and the other for AMD. It falls more on the general side compared to the other two options on this list, but that's a good thing for beginners. It'll smoothly work as a daily driver while also fulfilling your gaming needs.
Most of Ubuntu's benefits discussed earlier (stability, community support, etc.) carry over to Pop!_OS. Pop!_OS, in its own right, is a very popular distro too. The community and devs are very active and friendly, which is ideal for beginners. To reiterate, the other two are fairly easy to use too, but we feel that the best option for beginners is Pop!_OS.
SteamOS – Valve's Gaming Distro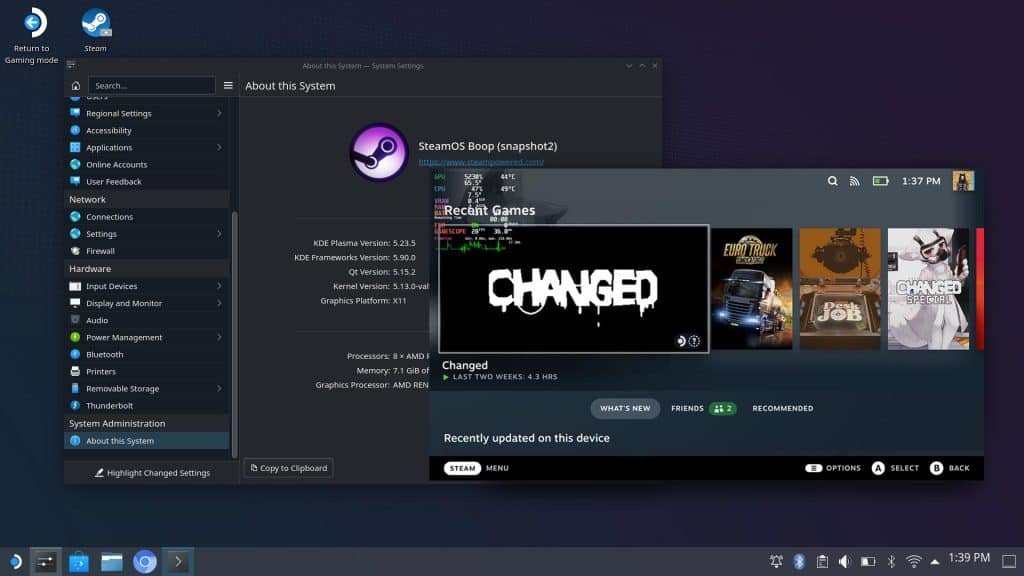 SteamOS is a gaming-focused distro from Valve with a bit of history behind it. SteamOS 1.0 was first released in 2013 as an OS built around Steam. Valve wanted to provide a console-like gaming experience on standard PC hardware with it. Eventually, Valve also released SteamOS 2.0 based on Debian 8.
SteamOS just worked out of the box and had a large range of games to choose from. It was one of the top gaming distros, and it played a considerable role in shaping the Linux gaming ecosystem. But most of this was in the past.
Valve released the Steam Deck which ran SteamOS 3.0 in Feb 2022. It was based on Arch instead of Debian and massively improved everything from game selection to performance. While the OS was still open source, one major problem was that Valve designed it to be run on their own hardware only, i.e., the Steam Deck. And this is where we are at present.
The last update to SteamOS 2.0 was in 2019. It's no longer supported, so that route is a no-go. But as we said, SteamOS 3.0 is still open source. There's a popular third-party fork called HoloISO that's made from the Steam Deck recovery image.
The good news is that you can install SteamOS 3.0 on your PC thanks to this. The bad news is that user reception is very mixed. For starters, HoloISO is only intended for systems with AMD GPUs. To quote the dev himself, if you have an NVIDIA GPU, you're on your own.
Even on AMD systems, HoloISO has been nothing but errors and crashes for some users while others have had a genuinely great experience with it. Ultimately, if you want SteamOS 3.0 on your PC, HoloISO is worth trying. If it doesn't work out for you, you can always switch to another distro from this list.
Speaking of alternatives, ChimeraOS also deserves an honorable mention. It's based on Arch like SteamOS. It also boots directly into the Steam Big Picture mode but can be switched to Desktop mode if required. Give ChimeraOS a shot if HoloISO doesn't feel like a good fit.